Forbidden Pavilion
Capital Pavilion

An Exclusive Restaurant Onboard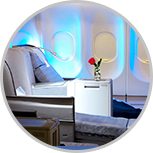 To guarantee passengers a more pleasant and comfortable journey, Air China has invested RMB 688 million in its Forbidden Pavilion First Class and Capital Pavilion Business Class. State-of-the-art amenities, comfortable seats, eye-pleasing cabin interior décor, quality meals and rich cultural symbolism make Pavilion First Class and Capital Pavilion Business Class the first choice of Air China's premium customers.
The different lighting schemes of the mood lighting system can mimic different times of a day like sunrise, sunset and night, adding extra luster to your relaxing meal times.
We have a team of professionals who work out tailor-made menus which are updated on a monthly basis. Gourmet foods, quality service and exclusive environment mean that passengers will have an exceptional culinary experience.

Reservation
Our team of great chefs has selected 18 classic dishes from around the world, including shrimp, fish, beef, pork, chicken, duck and vegetarian food as well as two staple foods. For reservation, please call Air China's Call Center sales hotline or local representative office nearest to you.
Menu
Seafood

Beef

Pork

Chicken

Duck

Vegetables

Noodle Soup
Sichuan Kongpao Shrimps:

Pepared with fresh sea shrimps and Kongpao sauce. A bit spicy. Sea shrimps are rich in protein, fat, Vitamin A, Vitamin B1, Vitamin B2, nicotinic acids, calcium, phosphorus and iron.

Flavored Deep Sea Cod:

Deep sea cod is first pickled with flavorings and then baked. The cod flesh is slippery and tender and packed with garlic aroma. Rich in protein and trace elements like including magnesium.

Stir-fried River Shrimps and Fresh Broad Beans:

Prepared with fresh river shrimps and fresh broad beans. Shrimps are crisp and aromatic. Tasteful and salty. Shrimps are rich in protein and low in fat. Broad beans are rich in Vitamin B.

Panga Fish Balls Stir-Fried in Red Sauce:

Fresh panga fish balls and red sauce are stir-fried together. The fish flesh is tender and tasteful, and the mixture of fish and sauce is richly aromatic. Panga fish is rich in protein, minerals and fat-soluble vitamins.
For reservation, call +86 10 95583
The photos here are for reference only. The dishes served could look a bit different from what is depicted in these photos.

Notes on Reservation
Forbidden Pavilion First Class and Capital Pavilion Business Class passengers departing from Beijing can reserve the meals or change or cancel a meal reservation before 16:00 one day before flight departure through any of Air China's ticketing offices in Beijing or Air China's hotline +86 10 95583.
1) If you don't reserve any meals, you will be provided with the standard meals on your flight.
2) You can only reserve your lunch, dinner and snacks. You cannot reserve your breakfast.
3) In case of flight delay, cancellation or rescheduling, meal reservations may be affected.

Meal Standards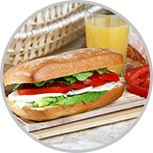 In three mealtimes, we have wonderful foods ready for flights that last over one hour and a half. For breakfast, we provide bread, hot foods, desserts and fruits as well as Chinese hot porridge and side dishes. For lunch and dinner, we provide at least three main dishes for you to choose from as well as appetizers, bread, butter, entrée, salads, soup, desserts, cheeses and fruits.
In between meals, you can have a wide range of snacks anytime, including seasonal fruits, yogurt and desserts and little eats. In First Class, we also provide flavorful ice creams, adding extra "flavors" to your journey.

Drinks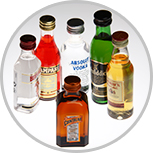 Since 2009, we have been providing fine French wines for First Class and Business Class passengers. We invited highly recognized French wine connoisseurs to select over 200 bottles of fine wine from around the world, which go well with your meals. You can select one that best suits your palate from our "Sky Bar" and enjoy your happy time onboard.
High up in the air, don't you want to have a cup of freshly brewed coffee or tea? Don't miss our "Tea in Forbidden Pavilion" service onboard. You can also select other fine drinks from our "Sky Café".
Meals could differ according to routes and seasons.